WellBeingMD SM – Center for Life and PHTV Channel 4 Presents
MINDFUL KITCHEN EPISODES – 2015

MINDFUL KITCHEN EPISODE #12
FEBRUARY 2015

In this video Chicago Wellness MD, Dr John Principe joins Sue Jankowski from Channel 4 Cable TV and Paul Boundas from the Country House Restaurant to make a heart healthy meal with simple ingredients. A simple colorful salad loaded with phytonutrients and Pylian Estates Olive Oil for dressing, fennel crusted wild Alaskan Salmon from Vital Choice over Braised White Beans and Fennel, and a surprising healthy chocolate dessert made from avocados.
MINDFUL KITCHEN EPISODES – 2014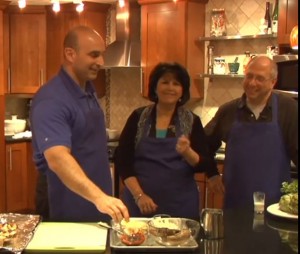 Chef Paul Boundas of the Country House Restaurant,
Sue Jankowski, and Dr. John Principe
Mindful Kitchen Episode #6 Part 1
… and Theresa Hershberger, WBMD Wellcoach
Mindful Kitchen Episode #6 Part 2
…and Ken Lelugas, WBMD Chef
Mindful Kitchen Episode #6 Part 3
Mindful Kitchen April 2014
…and Nicole Bunte-Green, Board Certified Health Nutrition Counselor
The Mindful Kitchen Celebrates National Nutrition Month Recap – 2014
The Mindful Kitchen: Spring Vegetable Pasta Salad
Mindful Kitchen – Farmer's Market Intro
Meet Anne Grizadas, Market Manager of the Palos Heights Farmer's Market
See Paul Boundas cook in the kitchen with his children.
Learn how to select the best kind of eggs for your body.
Mindful Kitchen May 2014
… and Bill Nielsen, T'ai Chi Instructor
Salads made with asparagus and radishes plus strawberry guacamole.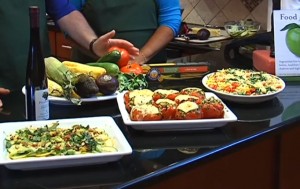 Mindful Kitchen August 2014
Dishes Featuring Tomatoes, Zucchini, and Corn
MINDFUL KITCHEN EPISODES – 2013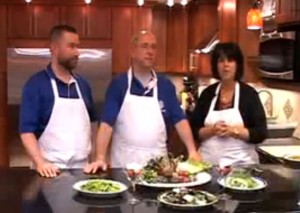 Chef Ryan, Dr. John Principe, and Sue Jankowski
Mindful Kitchen #1
Mindful Kitchen #2
…and Theresa Hershberger, WBMD Wellcoach
Mindful Kitchen #3
… and Lindsay Foreman, WBMD Yoga Instructor
Mindful Kitchen #4
Mindful Kitchen #5
… and Renee Oswald, Hypnotherapist, Meditation Guide, Reiki Master
Holiday Meals
Simple Soup